CBSE Class 12 Result 2018, Central Board of Secondary Education - CBSE Result 2018
CBSE Class 12 Result 2018
AVAILABLE NOW!
Register for CBSE
Class 12 Result 2018
Get Your
» Board Results
» Result Dates
» Examination
Notifications
» Latest News

REGISTER NOW!
Register for CBSE
Class 12 Result 2018
REGISTER NOW!
CBSE Board Exam 2018
CBSE
Exam Name
Exam Dates 2018
Exam Result 2018 (Tentative)
CBSE 10th Board Exam
5 March 2018 - 4 April, 2018
29 May, 2018 at 4 PM
CBSE 12th Board Exam
5 March 2018 - 13 April, 2018
26 May, 2018
CBSE 12th Result 2018, Class 12 Result 2018
:
CBSE 12th Result 2018
was declared, on
26th May 2018.
Most years, the
CBSE Class 12 Results
are announced towards the end of May. We will update the date and time of when the
Class 12 Result
will be declared as and when the announcement is made by Central Board of Secondary Education. All students, private and regular, can check their
CBSE XII Result
here on this page.
सेंट्रल बोर्ड ऑफ सेकंडरी एजुकेशन 5 मार्च 2018 से 13 अप्रैल 2018 तक शैक्षणिक वर्ष 2017-18 के लिए सीबीएसई 12 वीं कक्षा की परीक्षा आयोजित कर रहा है। सीईबीई 12 वीं के परिणाम मई 2018 के महीने में घोषित किए जाएंगे। इस वर्ष 11.86 लाख छात्र 12 वीं बोर्ड परीक्षाओं के लिए उपस्थित हो रहे हैं। आप हमारे नए लॉन्च
एंड्रॉइड ऐप
पर अपना 12 वीं कक्षा परिणाम देख सकते हैं।
CBSE 12th Result 2018 - Important Dates, Facts & Figures
Name Of Examination Authority: Central Board Of Secondary Education
Name Of Exam: CBSE Class 12th Board Exam 2018
CBSE 12th Exam Dates:
5th March to 13th April 2018
CBSE 12th Result 2018:
26 May, 2018
Total Number Of Students: 11,86,306
Number Of Male Candidates: 6,90,407
Number Of Female Candidates: 4,95,899
Total Number Of Exam Centres: 4,138
Exam Centres Outside India: 71
The Central Board of Secondary Education conducted the
CBSE Class 12th Examination
for the academic year 2017-18 from
5th March 2018 to 13th April 2018
. The detailed time table can be read
here
. The Board will declare the
Class 12th Result 2018
on the official website (cbseresults.nic.in) of the CBSE Board and on
examresults.net
website as well.
You can also check your
12th Class Result
on our newly launched
Android app
. This year
28.24 lakh students
students registered to appear for the CBSE board exams, out of which
11.86 lakh students
appeared for class XII board exams. There were
6,90,407 male candidates
and
4,95,899 female candidates
for the
class XII exams
that were conducted across
4138 centres
.
There has been a lot of angry talk from both, parents and students, about the CBSE 12th Time Table 2018 that has been released, due to the lack of gap days between exams. Whether this prompted CBSE to revise their time table for Class 12 Boards 2018 is not known yet but the board did publish a revised time table to
postpone the Physical Education exam from 12th April to 13th April 2018.
Earlier in February this year, the
admit cards
for this year's board exams were
released
by CBSE. The admit card has important information like roll number, centre number, examination dates, examination times, and other instructions. In what has been considered a serious transgression of CBSE byelaws, it came to light that some schools were withholding admit cards from some students or charging a fee to give out the admit cards, depending on students' performance in prelims. The CBSE published a strong
advisory
against this practice.
This year on, in 2018, the board also allowed students with special needs concessions and facilities like use of computers for answering their exams. There was also a relaxation in attendance up to 50% for students with special needs, and permission for the provision of a reader in case the student does not want a writer.
On 28th March 2018, CBSE
announced the re-examination
for two papers, the Economics paper for class XII and the Math paper for class X. This announcement came in the midst of rumours of paper leaks. On 30th March 2018, the Central Board of Secondary Education
announced
that the CBSE class 12th Economics re-exam would take place on the 25th of April, 2018. The class 12th exam is scheduled to be conducted for all students except those studying abroad.
The CBSE Board (Higher Secondary Education) is expected to declare the CBSE Class 12 Result on 25th May, 2018. The
Class XII Result
determines the future course of study for the lakhs of students who appear for the exam each year.
How to Check CBSE Result 2018 for Class 12 Students
The
Class 12th Board exams
are conducted by the CBSE every year. The Class 12th examination is the last school leaving examination for students to conquer before gaining admission to graduate programs across the country. The marks scored by students in their 12th standard exam also underlines their eligibility in competitive examinations like the BITSAT and also much sought-after degree programs at universities like DU. The
CBSE Class 12 Exams
are conducted across several examination centres and the
CBSE 12th Results 2018
are eagerly awaited by students across the country. In the year 2017, the
CBSE Class 12 Exam
was conducted across
3,503 centres
across the country. The
12th Result
is expected to be announced in
May 2018
and students should be able to check the Class 12 Results 2018 on the official website or on examresults.net. They can also check their results via
our Android app
. In 2018, the Class 12 exams were conducted from
5 March 2018 - 13 April, 2018
,and students can expect the
CBSE Class XII Results
to be announced in the month of May 2018. You can check the result of 12th class 2018 CBSE board by following the steps listed below:
Log onto the www.examresults.net website.
Type the desired state name, in this case - http://cbse.examresults.net/Class-12.htm
Look for the link which says CBSE 12th Result 2018
Click on the link and fill up all the details to get your CBSE 12th Result
You can also access your
CBSE Results 2018
by downloading our
Android app
now available on the play store. The app will also apprise you of CBSE Result Dates and other board announcements. It is possible to receive your
CBSE Class 12 Results
through the following methods as well:
IVR: At a cost of 30p per minute per roll number, students can access their results through an IVR system.
SMS: Students have the option of accessing their results via SMS. It's charged at 50p per SMS.
DigiLocker: Students can also access their CBSE board results 2018 via their DigiLocker, the account details for which are sent to your registered mobile number.
About CBSE Board Class 12 Result 2018
When the
CBSE Board Class 12 Results
are announced, the mark sheet will have each student's marks in subject wise, name wise, and grading wise systems. Once the student enters his or her hall ticket number and date of birth, the student will receive the following information.
Roll Number
Father's/Mother's Name
Part 1 performance
Part 2 performance
Part 3 performance
Grade points (subject wise)
Final results
CBSE Class 12 Grading Scheme
Marks Obtained
Grade Alloted
Grade Point Alloted (GPA)
91-100
A1
10
81-90
A2
9
71-80
B1
8
61-70
B2
7
51-60
C1
6
41-50
C2
5
33-40
D
4
21-32
E1
-
0-20
E2
-
If you want to
calculate your CGPA
, which is unessential since it is mentioned on the report card, you can follow the process below:
Get the grade points for the five main subjects. For example, subject 1: 9, subject 2: 9, subject 3: 10, subject 4: 10, and subject 5: 8
Add these together. For example, 9+9+10+10+8
Divide the cumulative figure by 5. For example 46/5 = 9.2
Your CGPA is 9.2
To calculate your percentage, you have to
multiple the same by 9.5
. For example 9.2*9.5=87.4% This year students also had access to an
observation system
which allowed them to communicate their grievances about the examination paper to the board within 24 hours of the exam. The feedback will be considered by the experts while coming up with the marking scheme. This new development could have an effect on the marks secured by students in the CBSE class XII board exams.
Also Read -
CBSE Exam Do's & Dont's
CBSE 12 Result - Last Year Statistics
The
CBSE Class XII Result
will be declared on 26th May 2018. In 2017, the same
CBSE Class XII Results
2017 were released in the last week of May, on 28th May 2017. Detailed below are some of the other statistics related to the CBSE Class 12 Board Exams conducted in 2017. These stats can perhaps help determine the pattern for Class 12 board CBSE for 2018 and also help understand the
CBSE 12th Result
pattern.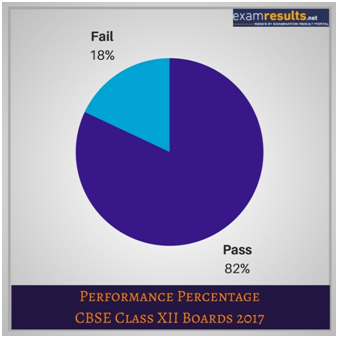 CBSE 12th Exam - Last Year Statistics
Exam Date
9 March to 29 April, 2017
Number of Exam Centres
3,503
Number of Schools
10,677
Result Date
28th May 2017
No of candidates
10,98,981
Pass %
82%
CBSE Class 12 Result - Previous Year Statistics
The overall pass percentage of students who appeared in the
CBSE 12th Exam
2017 was 82%. Last year, approximately 10 lakh students appeared for the CBSE Class 12 boards. The pass percentage and other statistics for CBSE Class 12 will be updated once the
12th Results
are declared.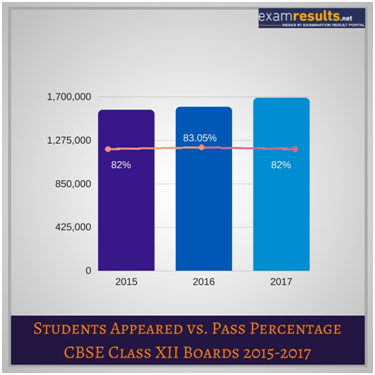 CBSE Class 12 Result - Previous Year Statistics
Year
Overall Pass %
Boys %
Girls %
No of Students
2017
82%
78%
87.5%
10,98,981
2016
83.05%
78.85%
88.58%
10,65,179
2015
82%
77.77%
87.56%
10,40,368
2014
82.66%
78.27%
88.52%
10,28,928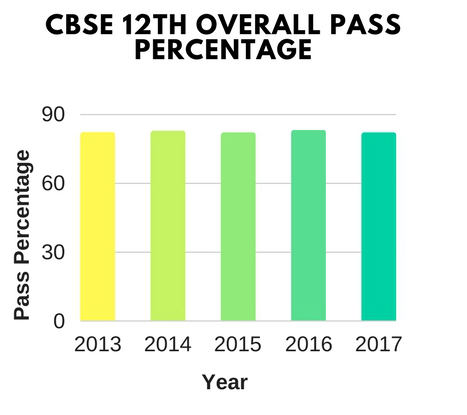 Where To Check CBSE Class 12 Result 2018
Students who've appeared for the
CBSE Class 12 Exams 2018
can check their
CBSE 12th Result 2018
on the official website of the CBSE board, cbseresults.nic.in or on examresults.net.
Our application
available on Google Play store is another means to access your results.
Bookmark this page
using the
keyboard shortcut Ctrl + D
to refer to this page and check your results and other exam-related updates.
All the Best!
About CBSE - Central Board of Secondary Education
The apex board of education in India,
CBSE
has a pan India jurisdiction and also a global presence with nearly 141 affiliated schools across 21 countries. The board grants affiliation to schools up to higher secondary level and develops common curriculum keeping nationwide requirements in focus. GET COMPLETE INFORMATION ON CBSE -
CLICK HERE
. The CBSE was given its present name 'Central Board of Secondary Education' in the year 1952. The Board was reconstituted in the year 1962 when its jurisdiction was extended.
We wish all the students waiting for their CBSE Class 12 Exam Results 2018, Best of Luck!
---