CBSE Class 10 Result, Central Board of Secondary Education - CBSE 10th Result 2020
CBSE Class 10th Result Updates
WILL BE DECLARED HERE
CBSE 10th Result and Exam Dates 2020
CBSE Board Exam and Result Dates 2020
CBSE
Exam Name
Exam Dates 2020
CBSE Result (Tentative)
CBSE Class 10 Board Exam
15 February - 20 March 2020
May, 2020
CBSE Class 12 Board Exam
15 February - 30 March 2020
May, 2020
CBSE Result 2020 Class 10 - CBSE Class X Result
09 January, 2020:
The CBSE Class 10 Result will be declared here, if chatter is to be believed, in May 2020. Last year, the results were declared in May, this year the results are expected to come out in the third or fourth week of May. Examresults.net will update the date and time of when the CBSE 10th Result 2020 will be out as soon as we receive notifications from our sources and official authorities. If you are a student who has appeared for Class 10th CBSE Exams, you can check your CBSE Result 2020 Class 10 on the official CBSE website or here on this page. You can also check your
CBSE Class 10 Result
here.
CBSE 10th Exam Admit Card 2020
Central Board of Secondary Education (CBSE), New Delhi has released the class 10 board exams admit card on its official website. Students can visit the official website and download their admit card online at cbse.nic.in. Here is the direct link to download the CBSE Class 10 Admit Card. CBSE board will be conducted exams for class 10 from February 26 to March 18, 2020.
CBSE 10th Result 2020 - Important Dates, Facts & Figures
Name Of Examination Authority: Central Board Of Secondary Education
Name Of Exam: CBSE Class 10th Board Exam 2020
CBSE 10th Exam Dates:
15 February to 20 March 2020
CBSE 10th Result 2020:
May, 2020 (Tentative)
The Central Board of Secondary Education will conduct the CBSE Class 10th Exams for this year from 15 February to 20 March 2020. The detailed time table can be referred to
here
. The board is expected to declare the CBSE Class 10 Result 2020 on the official website cbseresults.nic.in and on the examresults.netwebsite. The CBSE Class 10 Results will also be available here.
The CBSE 10th Result are declared region-wise. If you are awaiting the announcement of the CBSE 10th Result 2020 Date, then be assured that the date of the results announcement for CBSE 10th Result will be the same for all regions (tentatively May 2020), and only the time will change.
Once students finish their class 10th, they often take a decision to pursue further studies in specific streams on the basis of their
CBSE 10th Result.
It is an oft-seen trend that students with higher percentage opt for Science branches and other students often opt for Arts and Commerce. If you are wondering about your options after 10th standard, we have all the
career advice
you can need.
Steps to Check CBSE Class 10 Result 2020
The CBSE Class 10th Board Exams are conducted by CBSE every year across several examination centres. In the last year, the CBSE 10th Exam was conducted across over 3,974 centres in the country. This year, too, the rough approximation states that exams will be conducted across a similar number of centres.
The CBSE Class 10th Boards are to be conducted from 15 February to 20 March 2020 and the CBSE Class 10th Result 2020 Declaration Date is expected to be around the end of May 2020. Students appearing for the CBSE 10th standard board exams can check their CBSE Class X Result here by following the steps listed below.
Log onto the www.examresults.net website.
Go to the CBSE Class 10 section i.e. - cbse.examresults.net/Class-10.htm
Look for the link which says CBSE 10th Result 2020
Click on the link and fill up all the details to get your CBSE X Result 2020
There are other modes through which you can access your
CBSE Class 10th Result 2020
as well. These are listed:
IVR: An IVR system will allow you to access your results via a call which is charged at 30p per minute for every roll number.
SMS: Charged at 50p per SMS, students can receive their results on their phones with this service.
DigiLocker: A service that saves your CBSE Board Results 2020 and mark sheets in your locker, a student's account details are sent to the student via SMS.
Official School Websites: If you are still not sure of your results till you receive it from your school, then you can also access your school's websites which may post your CBSE class X Board Results.
Also Read -
CBSE Board Exam Preparation Tips
What After Checking Your CBSE Class X Board Results 2020
After checking your
Class 10 Results
, you can also choose to download a soft copy of the results or take a printout of the mark sheet from the exam results website. While this will only be a provisional mark sheet (an original mark sheet is only issued by CBSE and has to be collected from your school), it can be helpful during the application process to schools and colleges for your further studies.
Grading Scheme for CBSE Class 10
In 2010, CBSE brought into effect a new form of scoring for Class 10th. This was the
Cumulative Grade Point Average or CGPA system
which aimed at reducing comparisons and level the playing field, so to say, where
CBSE Class 10th Exam Results
are concerned, for students who have a small margin in their marks, bringing them into the same band. The idea was also to eliminate issues caused by errors in evaluation. Given below is the marks to grade allocation:
CBSE Class 10 Grading Scheme
Marks Obtained
Grade Alloted
Grade Point Alloted (GPA)
91-100
A1
10
81-90
A2
9
71-80
B1
8
61-70
B2
7
51-60
C1
6
41-50
C2
5
33-40
D
4
21-32
E1
-
0-20
E2
-
For a student to pass Class 10th, he or she has to score a
minimum of D grade in every subject
. In 2015, more than 75,000 students scored a perfect 10; this number increased to 1.4 lakh students in 2016. Calculating your CGPA is not altogether essential since it is mentioned on the mark sheet and report card, but if you want to calculate your CGPA, you can follow the process below:
Get the grade points for the five main subjects. For example, subject 1: 8, subject 2: 9, subject 3: 10, subject 4: 9, and subject 5: 8
Add these together. For example, 8+9+10+9+8
Divide the cumulative figure by 5. For example 44/5 = 8.8
Your CGPA is 8.8
To calculate your percentage, you have to
multiple the same by 9.5
. For example 8.8*9.5=83.6% While the grades for both, Classes 10th and 9th are displayed on the report card, only Class 10 grades are used to
Calculate your CGPA.
CBSE 10th Result 2020 - Last Year Statistics
| | |
| --- | --- |
| Region | Pass Percentage |
| Thiruvananthapuram | 99.85 |
| Chennai | 99 |
| Ajmer | 95.89 |
| Panchkula | 93.72 |
| Prayagraj | 92.55 |
| Bhubaneswar | 92.32 |
| Patna | 91.86 |
| Dehradun | 89.04 |
| Delhi | 80.97 |
| Guwahati | 74.49 |
This year CBSE Class 10 Exam Result 2020 is expected in the month of May. In last year, the results were on 6th May. The overall pass percentage of the CBSE Class 10th Results was 91.1%. More than 18.19 lakh students appeared for the class 10 examination.
CBSE 10th Board Exam - Last Year Statistics
Exam Date
21 February to 29 March 2019
Number of Exam Centres
4453
Result Date
6th May
No of candidates
1761078
Pass %
91.1%
CBSE 10 Result - Previous Year Statistics
The overall pass percentage of students who appeared in the CBSE Class 10th Exam 2019 was 91.1%. Approximately 1761078 students appeared for the CBSE 10th board exams last year. By any measure the number of students who appear for the CBSE Class 10th Board Exams 2020 will be higher. The pass percentage and other statistics for CBSE Class 10th 2020 will be updated once the class 10 result 2020 CBSE are declared.
CBSE Class 10 Result - Previous Year Statistics
Year
Overall Pass %
Boys %
Girls %
No of Students
2019
91.10%
90.14%
92.45%
17,61,078
2018
86.07%
85.32%
88.67%
16,38,428
2017
93.06%
93.40%
92.50%
16,68,427
2016
96.21%
96.11%
96.36%
14,91,293
2015
97.32%
96.11%
96.36%
13,73,853
2014
98.87%
96.98%
97.82%
13,27,250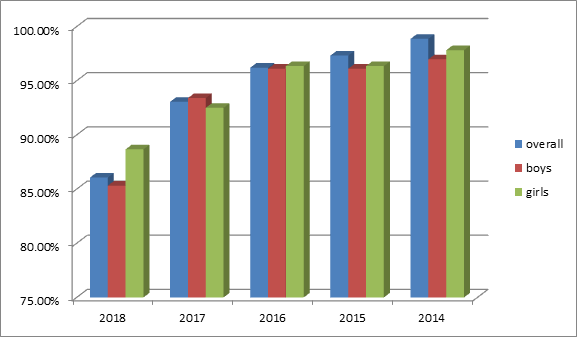 Bookmark this page
using the
keyboard shortcut Ctrl + D
to refer to this page and check your results and other exam-related updates.
All the Best!
About CBSE - Central Board of Secondary Education
The apex board of education in India,
CBSE
has a pan India jurisdiction and also a global presence with nearly 141 affiliated schools across 21 countries. The board grants affiliation to schools up to higher secondary level and develops common curriculum keeping nationwide requirements in focus. The schools affiliated to CBSE only follow the NCERT curriculum.
GET COMPLETE INFORMATION ON CBSE - CLICK HERE
. The CBSE was given its present name 'Central Board of Secondary Education' in the year 1952. The Board was reconstituted in the year 1962 when its jurisdiction was extended.
CBSE 10th class examination 2020 - Frequently Asked Questions(FAQ)
Are there any changes in the CBSE 10th class exam pattern 2020?
Yes, the CBSE board will now conduct two levels of examination for major subjects such as Mathematics.
When will the CBSE 10th class exam 2020 be conducted?
The CBSE Class 10 exams 2020 are all set to begin from 15th February and end on 20th March 2020.
How should one prepare for CBSE class 10th examination?
There are several question papers from previous years available online.NCERT books are also a good choice to prepare for the upcoming CBSE exams 10 class 2020.
Where to check CBSE results 2020?
You can check CBSE results for 10th class examination on our portal by simply following these steps -
1. Visit www.examresults.net
2. Select and click on the CBSE to acquire results or visit -https://cbse.examresults.net/Class-10.htm
3. A form will be displayed on your screen. Fill up the mandatory details in the form and get your results!

When will the CBSE 10th class examination results 2020 be announced?
Usually the CBSE board takes a couple of months to evaluate and announce the board results. Most likely the results will be displayed online in the month of May 2020.
---