Central Board of Secondary Education (CBSE) CBSE Class 10, Class 12 Results 2017

Class 10 Results Click Here
Class 12 Results Click Here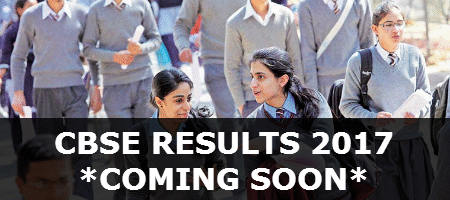 CBSE
Exam Name
Exam Dates 2017
Exam Result 2017
CBSE Class 10 Board Exam
9 March - 10 April
2 June, 2017 (tentative)
CBSE Class 12 Board Exam
9 March - 29 April
28 May, 2017, Before 12 Noon
CBSE Result 2017 - CBSE Examination Results 2017
: The
CBSE result 2017
would be announced on this page for both class 10 and class 12 exams. The CBSE results are announced in phases i.e. it is announced region-wise. CBSE Results 2017 will be announced for all regions together this year, starting with the
CBSE Class 12th Result
, which will be declared on
28th May, 2017 anytime before 12 Noon
and followed by
CBSE class 10th result
which is expected on
2 June, 2017
. Each year CBSE announces the CBSE class 10th result and CBSE class 12th result, CBSE Results before the month of May ends.
Click here for CBSE 10th Result 2017
Click here for CBSE 12th Result 2017
CBSE officially conducts the
Class 10th exams
during the
month of March
. This year, the CBSE class 10 Board exams 2017 were conducted from 9 March-10 April. The board conducts the
CBSE Class 12th examination
also during the month of March. This year, it was conducted from 9 March- 29 April, 2017. But this year, both the CBSE class 10 and CBSE class 12 exams started more than 1 week late due to state assembly elections that were conducted across 5 Indian states - Punjab, Goa, Manipur, Uttarakhand and Uttar Pradesh.
There has been a lot of speculations about the
CBSE results date
this year. Initially, a lot of rumours were doing the rounds online that the
CBSE class 12th results 2017
may be released on
24 May, 2017
and the
CBSE class 10th results 2017
may be declared on
2 June, 2017
. However, way back in January, the CBSE's IT department had given the re-assurance that the CBSE 2017 results would be declared on time without any delay before end of May, 2017 for almost 27 lakh students.
However the latest controversy that has delayed the
CBSE results 2017
was the board's decision to scrap its moderation policy along with all the state boards of India. This idea was met with a lot of resistance by students and parents alike who moved to court to appeal. The Delhi High Court on Tuesday, 23 May, 2017 has asked the CBSE to not ban the grace marks for this year. Keeping this in mind, the latest confirmed update from CBSE officials is that the
CBSE Class 12 results 2017 will be declared on Sunday, 28th May, 2017 anytime before Noon
.
---
Bookmark This Page