CBSE Result 2019, Central Board of Secondary Education (CBSE) Class 10 & Class 12 Results
CBSE 10 Results 2019
CBSE 12 Results 2019
CBSE Results and Exam Dates 2019
CBSE Result 2019 - CBSE Examination Results 2019
25 September, 2019:
The CBSE Result 2019 would be announced on this page for both Class 10 and Class 12 examinations. In the run-up to this year's CBSE Exams, after a long wait, the CBSE 10th and 12th Board Examination schedule was announced on 23rd December 2018 on their official website. As per the announcement made by the Board, the CBSE Class 10 Board Exams will be starting on 21st February 2019 and will end of 29th March 2019. The CBSE Class 12 Board Exams will be conducted from 15 February - 3 April 2019.
CBSE Board Result 2019 - Important Dates, Facts & Figures
Name Of Examination Authority: Central Board Of Secondary Education
Name Of Exam: CBSE Board Exams 2019
CBSE 10th Exam Dates:
21st February to 29th March 2019
CBSE 12th Exam Dates:
15 February to 3 April 2019
CBSE 10th Result 2019:
Expected in May, 2019
CBSE 12th Result 2019:
Expected in May, 2019
The admit cards for this year's board exams were
released
in February earlier this year. Without the
admit cards
students were not allowed admission to the examination hall. The admit card contains all the important information about the student including his/her roll number, centre number, examination dates, examination times, and other instructions. The admit cards have to be hand out to candidates by schools and institutions at 0 charge. The CBSE published a strong
advisory
against this practice.
The CBSE Results 2019 for both the exams, CBSE 10th Result 2019 and CBSE Class 12 Result 2019 are expected to be out in May 2019. The timetable for the CBSE Class 10th Board Exams can be found
here
and those for the Class 12th Exams can be found
here
. In 2018, 16.38 lakh students appeared for the class X board exams. The exams were conducted through 4453 centers. The upcoming Loksabha elections will have an impact on the SBSE 10th and 12th result dates. This might lead to results being declared earlier or later than usual. We will confirm the details of the exact result date as soon as we have official confirmation from the Central Board of Secondary Education. Along with the CBSE 10th and 12th Result we will also release information like name-wise results, pass percentage, number of candidates, gender-wise pass percentage, names of toppers, etc.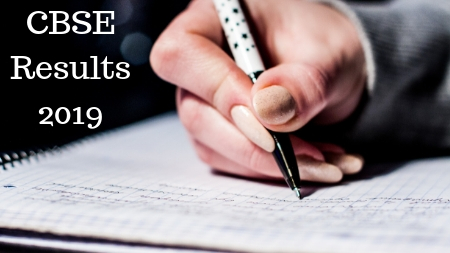 How To Check CBSE 10th & Class 12 Result 2019
Almost 27 lakh students appeared for the Class 10th and 12th
CBSE Board Exams
last year, in 2018 across the country. To check the
CBSE 10th Result 2019
and
CBSE Class 12 Result 2019
students can visit the website, www.examresults.net. This year the board exams will start in February 2019 and will continue to April 2019.
CBSE Result 2019
is expected in third or fourth week of May 2019. The steps to follow to check the
CBSE 10th Result 2019
&
CBSE Class 12 Result 2019
are given below:
Log onto examresults.net
Go the CBSE Section, cbse.examresults.net
Go to the CBSE 10th Board Exam 2019 section i.e. - cbse.examresults.net/Class-10.htm
Enter your admit card details and get your CBSE 10th Result 2019
You can also receive
CBSE Result 2019
for Class 10th and 12th here also.
IVR: CBSE Class 10 and 12 Results can be accessed via an IVR system that gives you your results via a call. The charges for the same are 30p per minute per roll number
SMS: Students can access their results via SMS charged at 50p per SMS
DigiLocker: The account details are sent via SMS to the student's registered mobile number. You will get your mark sheets for CBSE Board Results 2019 in your locker
Official School Websites: Some schools also post the CBSE Board Results 2019 on their website and you can access your results there.
Latest CBSE Updates 2019
In 2019,
28.24 lakh students
have registered to appear for the
CBSE board exams
. Out of these,
16.38 lakh students (16,38,428)
will be appearing for
class X boards
and
11.86 lakh students (11,86,306)
will be appearing for
class XII board exams
in 2019. The class X boards are going to be conducted at
4453 centres
and the class XII boards are going to be conducted at
4138 centres
. A total of
78 centres
are allocated for class X boards and
71 centres
are allocated for class XII boards, outside the country.

From last year, students appearing for their class X and XII boards also have access to an observation system which will allow them to send in comments and/or feedback about the question paper within 24 hours of having given the examination. Once reported, the issues will be taken into consideration by the expert group preparing the marking scheme.

From the year 2018, the board has also allowed for concessions and facilities like allowing use of computers for disabled students and those with special needs. The board has also allowed for relaxation in attendance up to 50% for students with special needs, and allowed for the provision of a reader in case the student does not want the services of a scribe.

Keep visiting the website for regular updates on CBSE Board Result 2019 for Class 10 and Class 12, CBSE 10th 10 Time Table 2019, and CBSE 12th Time Table 2019.
What After Checking Your CBSE Results 2019
Once you have checked your
CBSE Class 10 and 12 Board Results for 2019
, you can download a soft copy of the results as a PDF or even take a printout of the marksheet on the examresults website. This will make life for you easier as you plan your future and apply to schools and colleges.


The result that you print or take a soft copy of is provisional in nature. It is imperative that students collect the original mark sheet as published and issued by CBSE from their schools. This is necessary as students cannot use printouts or PDFs for official purposes.


CBSE 10th & 12th Result Declaration Pattern
CBSE Results, historically, come out towards the end of May. In 2019, there has been no official confirmation about when the results will be declared but it is expected to be announced in May 2019. This is the second year, since 1992, that the practice of moderation in marking will be curbed to decrease the trend of high cut-offs at universities, especially DU. The result declaration pattern for the past two years is listed below.
CBSE Result Declaration Pattern
CBSE
Year
10th
12th
2018
29 May 2018
26th May 2018
2017
3rd June 2017
28th May 2017
2016
28th May 2016
21st May 2016
2015
28th May 2015
25th May 2015
2014
19th May 2014
26th May 2014
This year the board has relaxed the requisite overall pass percentage that students in class X have to secure. While according to earlier circular, class X students had to get 33% marks in internal assessments and board exams separately, the board has now decided to
relax
this marking scheme for this academic year.
CBSE 10th, 12 Result - Pass Percentage Pattern
Around 27 lakh students sat for the CBSE 10th and CBSE Class 12 Exams held by CBSE in 2018. In the year 2018, the overall pass percentage of students who appeared in the Class 10th exam was 86.07% and for the class 12th exam was 83%. In the table below, you can check the pass percentage for the past two years for both, the CBSE Class 10th Exam and the CBSE Class 12th Exam. We will update this table with the pass percentage for 2019 once the CBSE Result 2019 for this academic year are out.
CBSE Pass Percentage Pattern
CBSE
Year
10th
12th
2018
86.07%
83.01%
2017
93.06%
82%
2016
96.21%
83.05%
2015
97.32%
82%
2014
98.87%
82.70%
2013
98.76%
82.10%
Where To Check CBSE Class 10, 12 Result 2019
Students who've appeared for the
CBSE Class 10 and Class 12 Exams 2019
can check their
CBSE Class 10th Result and Class 12th Result
on the official CBSE website, cbseresults.nic.in or on examresults.net.
Bookmark this page using the keyboard shortcut Ctrl + D to refer to this page and check your CBSE Board Result 2019 and other exam-related updates. All the Best!
About CBSE - Central Board of Secondary Education
CBSE is the apex board of education in India which has not only a pan-India jurisdiction but also has a global presence with nearly 141 affiliated schools across 21 countries. The board grants affiliation to schools up to higher secondary level and develops common curriculum keeping nationwide requirements in focus. GET COMPLETE INFORMATION ON CBSE - CLICK HERE. The CBSE was given its present name 'Central Board of Secondary Education' in the year 1952. The Board was reconstituted in the year 1962 when its jurisdiction was extended.

---